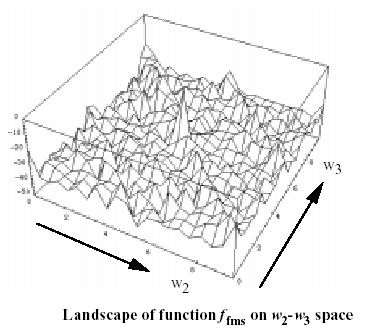 Description:
The Parameter Identification Problem of Frequency Modulation Sounds (FMS) [TF93,TFG97] consists in determining the 6 parameters
of FM Sound model represented by

with

. The function

is defined as the summation of square errors between the evolved data and the model data, as follows:

.
Instances and best known solutions for those instances:
Instances of this problem have a fixed number of genes, one for each parameter
. Different instances can be defined by changing the model data,

. For a given model data, the optimun solution of the problem is

, i.e., no error exists between the model data and the parameter values obtained by the algorithm.
Related Papers:
[TF93] S. Tsutsui and Y. Fujimoto. "Forking Genetic Algorithms with Blocking and Shrinking Modes". Proceedings of the 5th International Conference of Genetic Algorithms, S. Forrest, Ed. San Mateo, CA: Morgan Kauffman, pp 206-213, 1993.
[TFG97] S. Tsutui, Y. Fujimoto, and A. Ghosh. "Forking GAs: GAs with Search Space Division Schemes". Evolutionary Computation, 5(1): 61-80, 1997.
Click here to get the bibliography in bibtex fotmat.